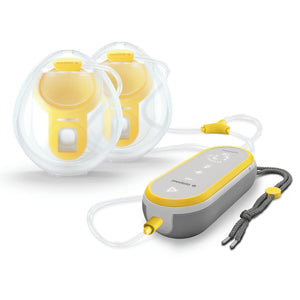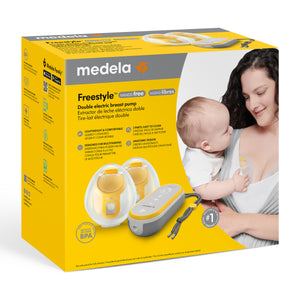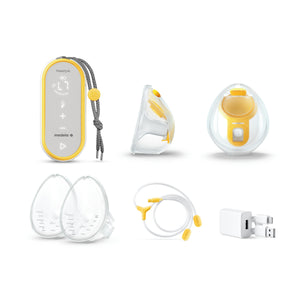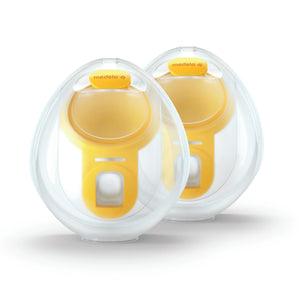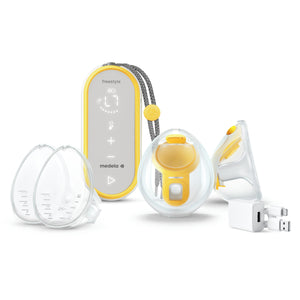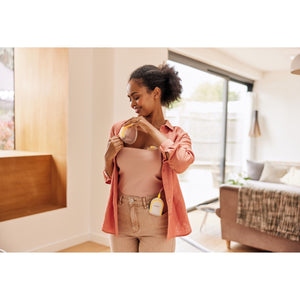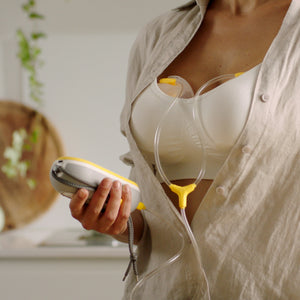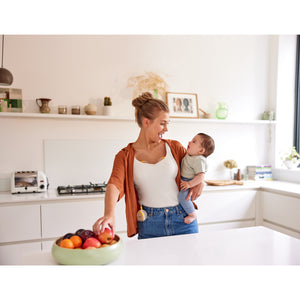 Medela Freestyle™ Hands-free Breast Pump
Pump anytime, anywhere with Medela's first wearable hands-free double electric breast pump. Freestyle™ Hands-free includes discreet, anatomically shaped collection cups uniquely designed to maximise milk expression and comfort*.  The new wearable collection cups are ultralightweight**, only 3 parts for easy cleaning and are transparent making it easy to align your nipple and see your milk flowing. 
Use with Medela Family™ app to automatically track your pumping session.  
* Patent EP22182874.2.
**only 2.68oz each
Product Details:
Package Dimensions 248 x 128 x 219 mm 
Item weight <1.0 lbs / 273g (breast pump only) / 76g /  2.68 oz. (cups only) /  0.98kg /2.16lbs (in retail package)
USB-C chargeable
Power input: 100-240V
Batteries 1 non-removable Lithium Ion Battery Included 
Features & Benefits
HANDS FREE:  Medela Freestyle™ Hands-free gives you the flexibility to pump anytime anywhere.  The rechargeable pocket-sized pump and wearable collection cups keep your hands free for multi-tasking.

ANATOMICALLY DESIGNED CUPS: Research-based hands-free collection cups designed to avoid localised compression and maximise milk flow, with a broader lower half to support the underside of the breast and a smooth surface and rim which flares away from the breast1.

COMFORTABLY LIGHTWEIGHT: Ultralight, wearable collection cups, weighing 76g each, are designed to sit discreetly in your bra  and mimic the shape of the lactating breast for discretion and comfort.

ONLY 3 PARTS: To clean, dishwasher safe and easy to assemble.

AUTOMATIC TRACKING: Connect with the award-winning Medela Family™ app to plan and track your feeding schedule, and gain exclusive access to virtual milk storage

2-PHASE EXPRESSION® TECHNOLOGY: Freestyle™ Hands-free mimics baby's natural sucking rhythm – stimulating milk flow at first followed by a slow expression of milk2

1 Prime DK et al. Breastfeed Med. 2018; 13(7):A-45. 2 Mizuno K, Ueda A. Pediatr Res. 2006; 59(5):728–731.
---